Tonight, you are getting two recipes in a single post! I often make these two dishes together, and they pair perfectly. They create a light and nutritious meal.
Healing Kale Salad:
Prep time: 20 minutes
Cook Time: None! Let marinate for 1-4 hours if possible
My father-in-law is the kale king. He grows kale almost year-round, so we eat a lot of kale. My mother-in-law likes to tenderize the kale using olive oil. I added a few of my own flavors and made this delicious and nutritious AIP-compliant kale salad. Marinating the kale in lemon juice and olive oil makes it much easier for me to digest.
Ingredients:
1 large bag of organic kale or several large bunches of kale from the farmer's market
1 large lemon
1 red onion
1 clove of garlic
dried cranberries
sunflower seeds (if reintroduced)
Olive Oil
Salt
Pepper (if reintroduced)
Directions:
Devein the kale (and save the stems to make green juice). One handful at a time, place the kale into a food processor and chop into small pieces. Place chopped kale into a zip lock bag.
Heat the lemon for 15 seconds in the microwave. Cut lemon into large slices and squeeze juice into the bag. For a less powerful lemon flavor, don't use all of the lemon juice. Add olive oil until all the kale looks wet, but is not dripping. Add salt to taste.
Message the kale inside the bag to help break down the harshness of the kale flavor. Afterward, transfer the kale into a bowl.
Dice onion and garlic into small pieces and mix into the chopped kale. Allow to marinate for a few hours before serving if possible.
Add dried cranberries, salt, and sunflower seeds to taste. Enjoy!
* You can also marinate the salad with the sunflower seeds added to help make the seeds easier to digest!
Pro Tip: Top with chicken and some fruit (berries, oranges, ect.), and it becomes a meal all on its own!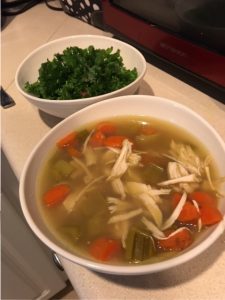 Instant Pot Chicken Soup:
 Prep time: 10 minutes
Cook Time: 4 minutes low pressure
What goes better with soup than salad? My mother has the best chicken noodle soup recipe, but if you remove the noodles it is completely paleo! She used to make chicken noodle soup for me all the time when I was feeling sick growing up, so one day I added all the veggies to my instant pot and created chicken noodle-less soup. This recipe is full of healing spices/bone broth, completely paleo, easily altered to become AIP compliant, and exactly what I need when I am under the weather.
 Ingredients:
4 chicken breasts
1 cup of carrots chopped into 1 inch pieces
1 cup of celery chopped into 1 inch pieces
1 onion diced
1 whole parsnip peeled and diced
1 tablespoon turmeric
1 tablespoon salt
2 cloves of garlic diced
½ tablespoon pepper, if reintroduced
Bone broth (I usually use about 2 quarts)
Directions:
Dice veggies and place them in instantpot.
Add turmeric, salt, and pepper. Add more if you would prefer a stronger taste.
Place in 4 chicken breasts.
Fill instant pot to maximum fill line with bone broth.
Set instant pot on low for 4 minutes.
Allow instant pot to depressurize on its own.
Open instant pot and shred chicken. Enjoy!